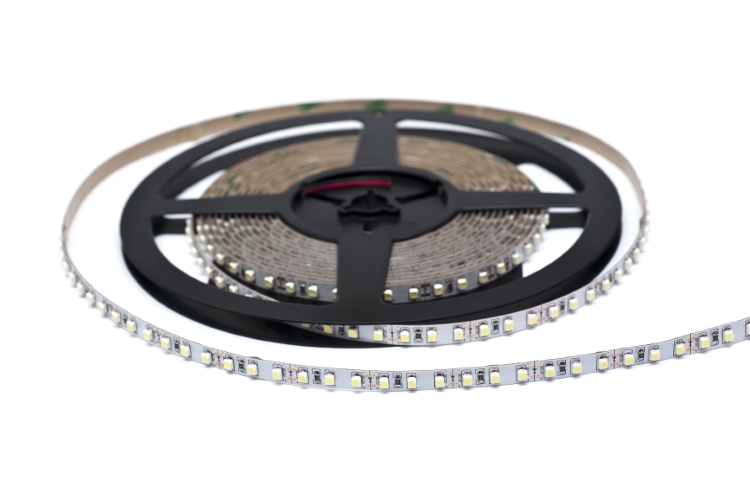 LED flex strip neutral white 600LED 42W IP20
Professional LED strip with warm white light for indoor applications. LED flexible strip sold in full 5m rolls. The LED strip is most often used as decorative lighting, accent lighting or as lighting. The ability to mount the LED strip in the profilu aluminiowy allows you to obtain a decorative effect and expand the possibilities of mounting LED strips.
Product description:
• Application: for rooms that are not damp
• Symbol: HQ2835120LED8.4NW
• Colour temperature: neutral white, 4000K - 4500K
• Protection level: IP20
• Power supply 12Vdc +/- 5%
• Power consumption 8,4W/1m
• Power consumption 0,7A/1m
• Diodes Type diodes 2835
• Colour of light NW neutral white 4-4,5kK
• Brightness NW – 635lm/m , 75lm/W
• CRI ≥75
• Number of LEDs 600 pcs./5m 120 pcs./1m
• An angle of 115o
• A spacing of diodes 8,3mm
• A lifetime of 50,000 LEDs hours
• Flexible PCB
• Ground colour: White
• 3M adhesive tape
• The possibility of cutting every 25mm

Wymiary:
• Length 5000mm
• Width 10mm
• Height 3mm
• Connecting Two-core cable 15cm

Inne
• Working temperature -25~+60oC
• Storage temperature -25~+70oC
larger discounts with larger orders.
Proposed power supply up to 5m GPV-50-12