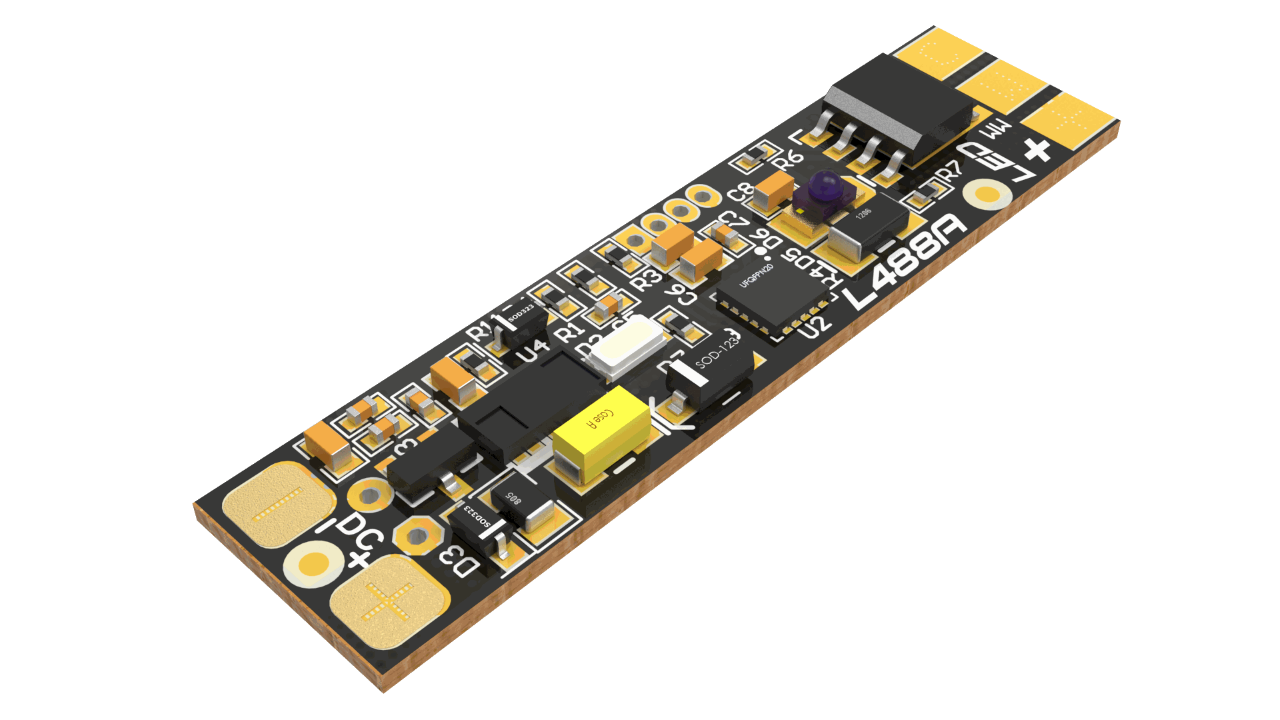 Proximity dimmer for profiles - ProxiDimmer 2x5A L488
ProxiDimmer DW 2x5A L488
Article number: LWPXDL488-2X5A-DW
Product description:
Driver for two-colour tapes controlled by 2-channel proximity. LED lighting driver used for LED strips, LED modules and other LED light sources powered by 8-27VDC. The controller requires power from the power supply with the appropriate voltage and power corresponding to the maximum power consumed by the tape (but not exceeding the maximum power of the controller) connected to it. The controller detects the movement of the hand at a distance of ~ 50mm from the sensor also through the opal cover of the aluminium profile for LEDs.
Technical data:
Input voltage: 8VDC - 27VDC
Maximum output current: 5A/channel
Number of output channels: 2
Maximum output power: 135W
Motion detection range: ~50mm
Calibration method: automatic
Power consumption: < 0,4 W
Connection method: solder pads
Max. Ambient temperature: 40°C


Functions:
You can turn the light on/off
with a hand movement or change the light intensity by
holding the hand above the sensor. To turn on/off LED
light source, move your hand over the sensor. To stop
and store the light level, move your hand away from the
sensor. The controller will remember the previous
settings after turning the device off and on. Longer hold
over the sensor changes the light intensity.
CCT regulation possibility in dynamic white variant
by slide and hold the hand over the sensor. ProxiDimmer
has a unique auto-calibration feature, and it can work
even under milky or dark glass.


Dimensions (LxWxH): 40x10x3mm