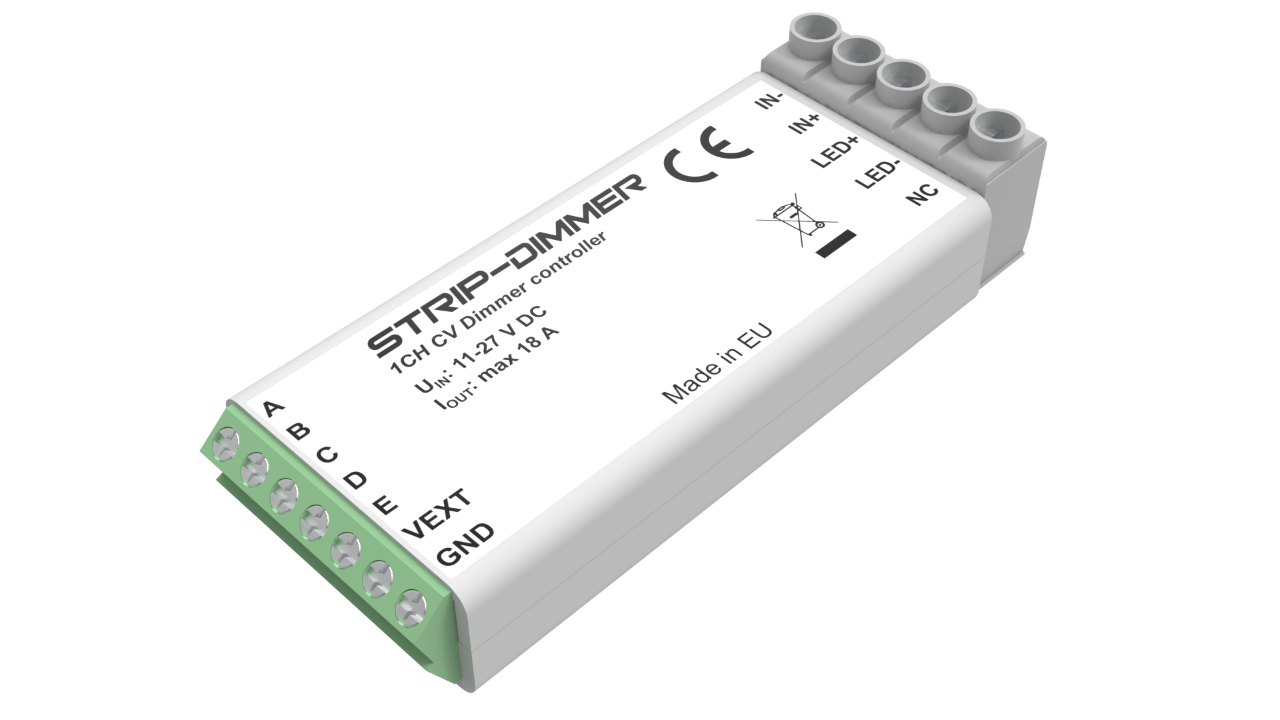 Universal Dimmer - Strip Dimmer Mono 1x18A CV L478
Strip Dimmer Mono 1x18A CV L478
Article number: LWSTDIML478-1X18A-CVDG
Product description:
Universal dimmer with Flicker-Free technology and
power up to 600 W. The driver can be controlled by a
potentiometer, push button switch, or 1-10 V signal
depending on the setting. The greatest advantage of
these controller is the enormous power in a tiny device.
Thanks to high-frequency PWM higher than 20kHz,
flickering is unnoticeable for our eyes and a camera
The controller has PWM and
serial input/output so the drivers can be controlled from
another (master) controller. This solution is very
cost-effective and allows us to create large area lighting
installations. There is also power output and signal
input for an external sensor such as C-touch, M-Touch,
or Proximity. It is possible to connect many sensors
parallel to one driver..
• Control by an external switch, potentiometer, 1-10V
• Possibility to connect couple controllers
• Connection switches in parallel available
• Soft dimming
• Automatic saving of parameters before switching off
Technical data:
Input voltage: 8VDC - 27VDC
Maximum output current: 18A/channel
Number of output channels: 1
Maximum output power: 432W
Calibration method: automatic
Power consumption: < 0,4 W
Connection method: Screws Terminals
Max. Ambient temperature: 40°C

Dimensions (LxWxH): 70x27,5x15,5 mm