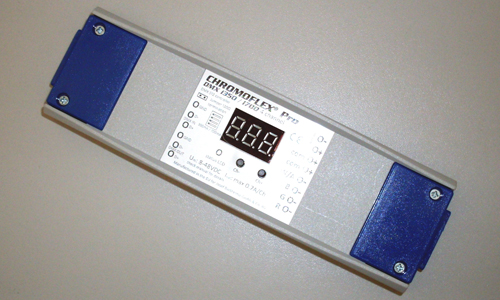 Controller for LED CHROMOFLEX Pro DMX CV 4ch
Product description:
Driver dedicated for LED RGB + W 12V or 24VDC. A LED lighting controller for RGB + white (multicolour) LED strips, LED modules and other LED light sources powered by 10-24VDC. For indoor lighting management with DMX signal for dynamic and complex applications. DMX512 controlled. Addressing via buttons.
Technical data:
Degree of protection: IP20
Dimensions: 182x52x22mm
Voltage: 10-24V DC
Current Rating: 4A / ch
Output power: (12VDC) 192W; (24VDC) 384W
Controller accessories:
TOUCH PANEL WHITE or BLACK FOR CHROMOFLEX PRO DMX 3 / 4CH