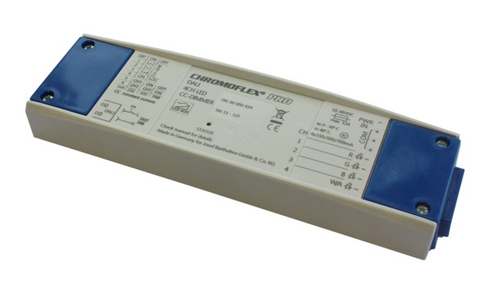 Controller for LED CHROMOFLEX Pro Dali i700 4ch
Product description:
Chromoflex Pro DALI has been developed in accordance with DIN IEC 062386-101. DALI (Digital Addressable Lighting Interface) is a standard digital communication interface in the field of building automation. A LED lighting controller for RGB + white (multicolour) LED strips, LED modules and other LED light sources powered by direct current 350mA or 700mA.
Supply voltage: 10V DC - 48V DC
Protection class: III
Number of output channels: 4
Output current: max. 700mA/channel
Dimensions (length / width / height): 180/52/22 mm
Own current consumption (without LED): 5 - 20 mA
Ambient temperature: 0 ° C - max. + 50 ° C
(Use only in dry places with sufficient air to dissipate heat, without condensation)
Class of protection: IP 20