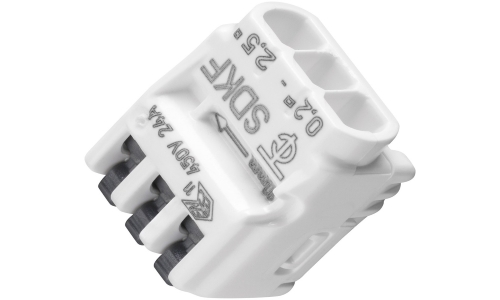 Universal 3-terminals SDKF3 quick connector
SDKF3
All the benefits of SDKF at a glance ...
- Mounting range: 0.2 mm² - 2.5 mm² for rigid and flexible cables.
- A series of cable cross-sections can be connected in one terminal.
- High pulling forces.
- A connection of rigid wires without the use of a release lever.
- Small sizes
- A window for visual inspection of the fixing points.
Technical data
Box type 08015046 - 275 x 200 x 215
Rated voltage 450 V
Rated current 24 A
Max. ambient temperature T85
The length of the insulated wire 9 + 1 mm
Clamping range 0.2 - 2.5 mm²